The Physical Therapy Practice Manager's Guide to Virtual Medical Receptionists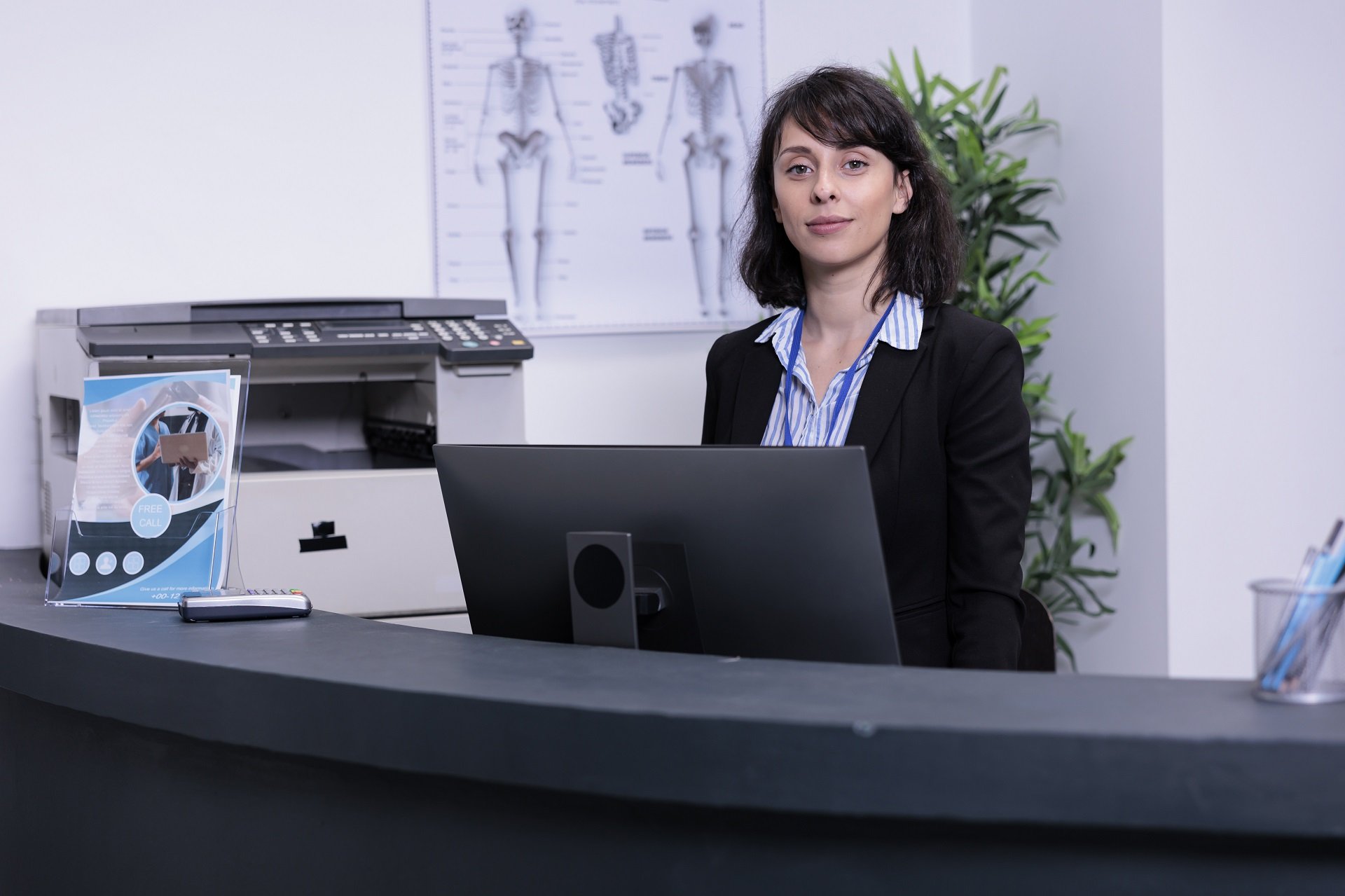 When managing a front desk for your physical therapy practice, two options exist: human physical therapy receptionists and healthcare kiosks. The advent of the COVID-19 pandemic made kiosks seem like the most reasonable option. However, human receptionists still prevail due to their ability to deal with complex situations and to provide the human touch. This is especially important in the physical therapy practice, where building empathy and trust with your patients is vital.
Still, the concerns of safety, burnout, and high turnover plague the use of in-person receptionists, and so physical therapy practices continue to find ways to optimize their front desk operations. In that regard, there is one more option still unexplored by many practices: virtual medical receptionists. This combines the best of both worlds – the human touch and flexibility of in-person medical receptionists and the safety and minimal physical headcount offered by kiosks.
Understandably, some practices are anxious about what virtual medical receptionists have to offer due to their novelty. After all, front desk work is traditionally done in person. To clarify and elaborate on what virtual medical receptionists are and what they can do for your physical therapy practice, here's a comprehensive guide on everything you need to know about them:
What is a virtual medical receptionist?
"Virtual receptionists" are receptionists that attend front desks remotely. Aside from the difference in work setup, virtual receptionists share the same roles and responsibilities as in-person receptionists.
A "virtual medical receptionist" is a medical receptionist who remotely attends the front desks of healthcare practices, such as physical therapy clinics. Virtual medical receptionists perform the same tasks and functions as their in-person counterparts.
These tasks include facilitating the check-in process of patients and operating the EMR, as well as administrative tasks like:
Answering phone calls
Responding to emails
Scheduling appointments
Sending appointment reminders
Benefits of using virtual medical receptionists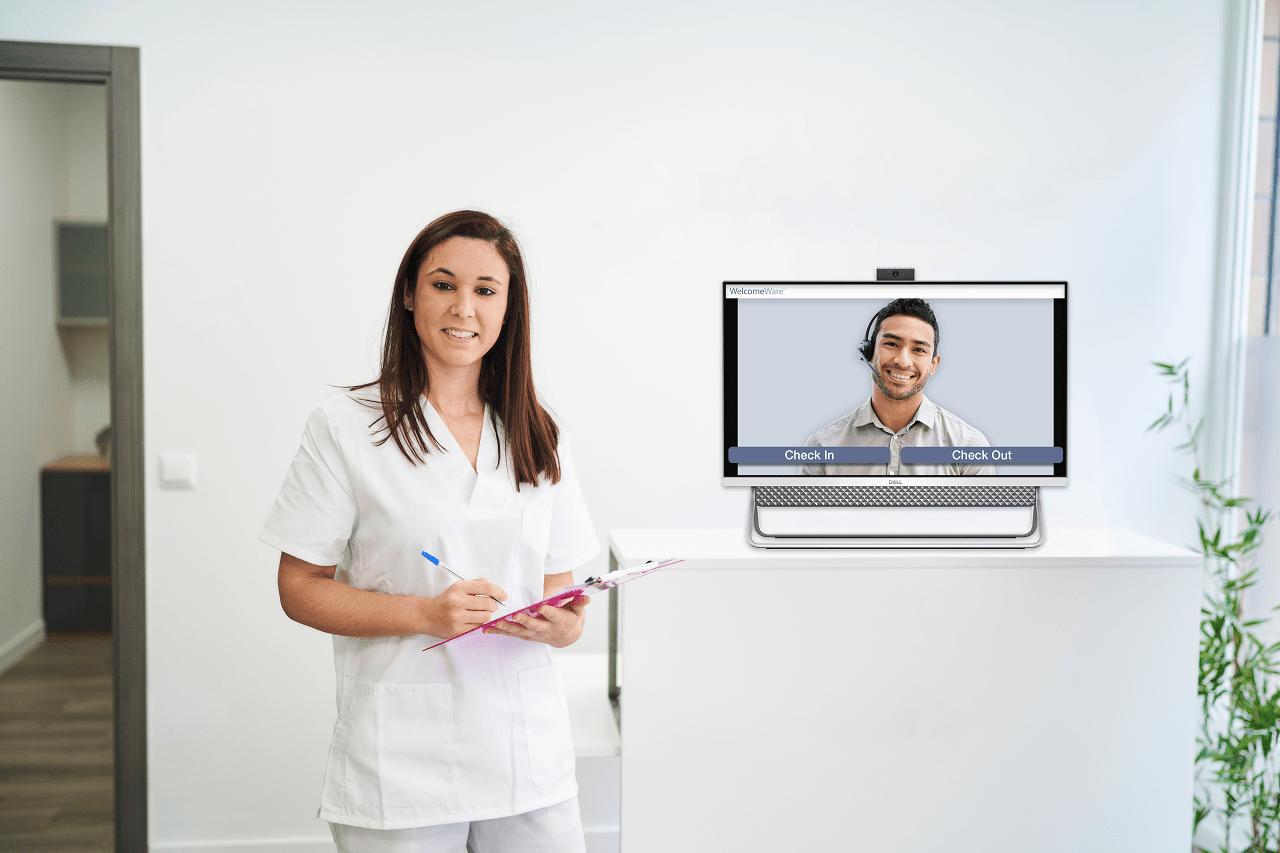 At first glance, the advantages of a remote front desk seem to favor only the receptionist. In reality, your customer experience and patient retention can benefit significantly from virtual medical receptionists. Here are some benefits of going virtual with your medical front desk:
Always available
The medical front desk serves a crucial role in physical therapy operations by managing the patient flow and intake. Thus, a receptionist must always be available behind the counter to facilitate the check-in process.
However, a front desk can become empty due to:
Paid time off
Emergency leaves
Sick leaves
Sudden absences due to uncontrollable personal circumstances
In the event of an empty front desk, the providers are often the ones that are delegated front desk work. However, this results in them splitting their attention between treating patients and administrative tasks, leading to:
Provider frustration. Providers are dedicated only to providing physical therapy services to their clients. Giving them additional responsibilities outside of that scope can frustrate them.
Worse customer experience. One of two unfavorable outcomes may occur: either the provider has to constantly pause an ongoing patient appointment to attend to newly arrived patients, or the provider has to focus completely on the current patient and leave the front desk empty. In both cases, patients will become irritated.
Unbilled appointments. 80% of appointments that were unbilled the first time are never billed again. This happens either because the provider lacks knowledge of the proper billing process or forgets to bill the patient before or after the appointment.
Thus, having dedicated receptionists attending the front desk at all times is critical.
In that regard, your physical therapy receptionists are much more likely to be more available in a remote work setup. Rather than being physically present behind the front desk, they can attend the front desk remotely and live-stream themselves on a kiosk at the prompt of a patient. This allows the receptionist to be flexible in performing front desk work despite personal circumstances at home.
This doesn't necessarily mean that virtual medical receptionists no longer take time off. However, letting your medical receptionists work remotely does have the likelihood of reducing leaves. Plus, should a receptionist suddenly become unavailable, other remote receptionists within the front desk team can fill in. This ensures that the front desk is effectively attended to at all times.
Less turnover
Medical receptionists have a very high turnover rate due to the exhausting nature of the role. They face multiple situations, such as:
Challenging patients. Agitated patients with specific expectations about the offered services are hard to calm down.
Heavy patient traffic. Receptionists must be able to attend to each patient with the same level of focus and care, which becomes difficult during busy days.
Appointment scheduling issues. The scheduling preferences of providers and patients can vary wildly, possibly leading to patients being frustrated if the appointment is set on a date they didn't want.
Combined with everyday travel to and from the clinic, these factors can result in burnout and turnover. Generally, turnover occurs after 6-12 months into a receptionist's tenure, and searching and hiring the next receptionist will take up to 3 months. This is a considerable amount of time when your front desk is insufficiently staffed. In other words, medical receptionist turnover can be fatal to your clinic.
One of the most notable features of virtual medical receptionists is that they can work from anywhere – in most cases, they work from home. Such a setup is a highly desirable prospect, especially for front desk roles where physical presence is often required.
The ability to work from the comfort of their own home alleviates the stress of many difficult situations:
Challenging patients can make the receptionist feel tense in their presence, which is less likely to happen if they're working from home.
Heavy patient traffic can be easily managed through collaboration with other medical receptionists who can jump in another's stead in case of unavailability or other issues.
Appointment scheduling issues can be alleviated with the help of scheduling software to ensure that receptionists can find the most favorable time for both the provider and the patient.
Altogether, working remotely results in a much lower likelihood of burnout and turnover for your physical therapy receptionists.
Safer work conditions
COVID-19 made remote work necessary to ensure the safety of staff. While the dangers of the pandemic have slowly declined, the concern of safety still remains amidst factors such as:
Traffic accidents
City pollution
Harsh weather conditions
Other possible illnesses
In an in-person work setup, physical therapy receptionists have to face these factors on a daily basis. They have to deal with risks of sickness or worsened physical well-being.
On the other hand, they're at much lower risk if they work remotely. This is because they don't need to travel or leave their homes to perform their work.
Thus, letting your receptionists work remotely is much safer than having them work in the office. In addition, you also don't need to spend on additional facilities and protocols to make the work environment safer.
Virtual medical receptionists vs. In-person medical receptionists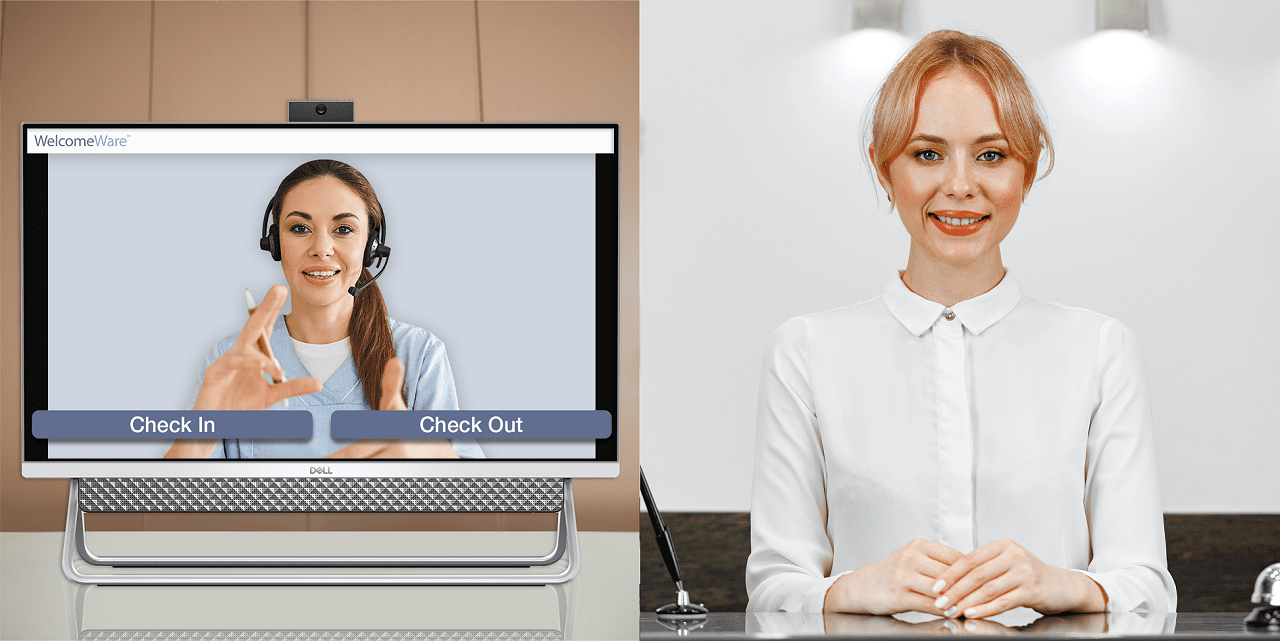 One of the common objections against virtual medical receptionists is that an in-person work setup is still superior due to factors such as the human touch and lower expenses. While those are valid concerns, in practice, enabling remote reception is actually more beneficial. Here's how:
Consistency of performance
Typically, physical therapy receptionists are trained to provide a consistently positive customer experience for your patients. However, due to traffic or other external factors, their performance may be negatively affected, which can reflect in their actual performance. Plus, untimely leaves, absences, and other emergencies can leave a dent in your clinic's image.
Virtual medical receptionists often work from their homes. This means they are far less likely to be affected by the same factors. As a result, they can perform much more consistently than if they work in person.
Plus, virtual medical receptionists have one distinct advantage: when a receptionist in a specific location is unavailable, you have to rely on other receptionists who are available. However, the first option may not be possible if you have a small front desk team for that location. On the other hand, under a remote setup, if a receptionist becomes unavailable, other receptionists can easily fill in regardless of where they are.
A remote setup also allows you to leverage a single front desk team rather than multiple teams for all your locations, which can enforce a consistent customer experience throughout your entire front desk operations.
Costs
Managing multiple locations involves the challenge of ensuring that each clinic has a sufficiently staffed front desk. However, some locations may face less traffic than others during specific time periods, leading to underutilization and lower ROI for some receptionists. In the long run, this can be financially detrimental, as you will be spending more on less busy clinics.
With virtual medical receptionists, you can solve multiple facets of this issue by:
Being able to cover multiple locations simultaneously. With the proper virtual receptionist platform, each receptionist is capable of attending to multiple front desks at the same time.
Leveraging the same front desk team. Instead of having multiple front desk teams, you can use a single receptionist team for all your locations.
Allowing you to reduce the headcount. You can focus on utilizing the most skilled receptionists to run all of your front desk operations, which streamlines the customer experience as well.
Candidate pool
One of the usual challenges of staffing a front desk is location. Typically, you need to look for the ideal candidate who lives near the location and, ideally, the best-skilled candidates are the most desired. However, those candidates may be located far from the clinic and are unwilling to either relocate or travel far distances for work. On the other hand, you may not want to employ candidates with skills that are below your minimum expectations.
With virtual medical receptionists, the challenge of distance is non-existent. You can employ virtually anyone from anywhere in the country or even the world. This allows you to search for the best receptionist candidates without worrying about geological restraints.
Why use a virtual receptionist platform?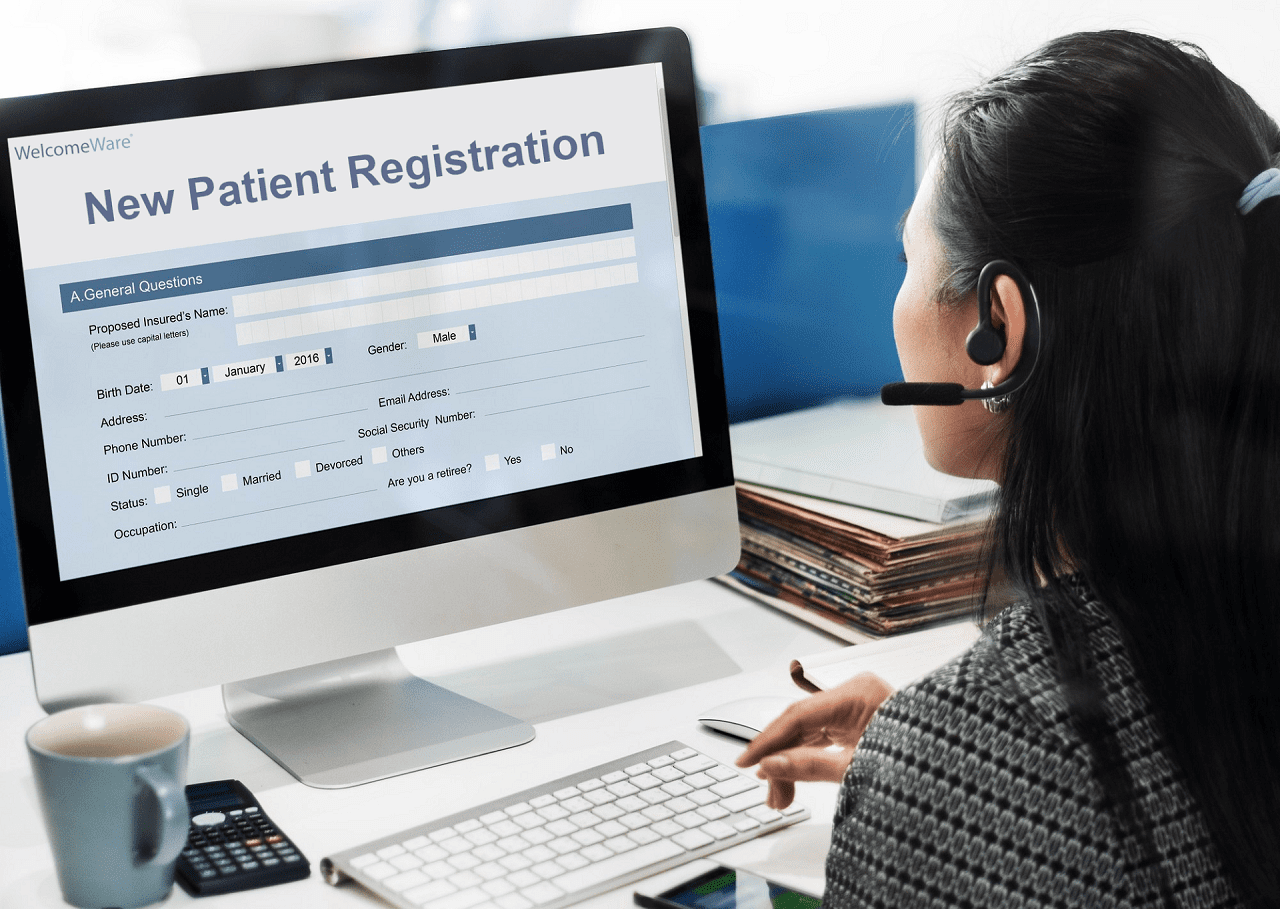 To leverage virtual medical receptionists, you need to use the proper platform that allows you to enable your receptionists to work remotely and live-stream themselves for every patient interaction.
While there are workarounds to simulate a front desk through various apps, it's always best to use a virtual receptionist platform because it offers essential features for enabling remote front desk operations.
Here are reasons why you should consider using a virtual receptionist platform:
Dedicated virtual front desk software
Some video conferencing platforms, like Zoom and Google Meet, may allow you to replicate the same live-streaming functionality of a virtual receptionist platform. However, these platforms lack many features that a dedicated virtual receptionist platform would have, such as:
Check-in and check-out functionalities
Automated visitor arrival notifications
Digital intake forms
Lightweight web-based operations
In addition, platforms are capable of additional dedicated features that support crucial front desk functions like:
Document scanning
ID capture
Payment verification
Hardware options
Ideally, a virtual receptionist platform should be able to run on multiple types of hardware. This ensures that, regardless of your current resources, you can enable remote front desk operations for your clinic.
On the other hand, if you want to maximize the effectiveness of virtual receptionists, you may want to consider using kiosks to run your platform.
There are two main types of kiosks:
Desktop displays – All-in-one desktops that run exclusively on a virtual receptionist platform and are usually placed on the reception counter. Ideal for small clinics.
Freestanding kiosks – Kiosks that are stationed around the reception area. Best for larger practices.
Both types of kiosks usually have the following features:
An interactive touchscreen display that shows the live-streaming receptionist and provides digital intake forms
Webcam for ID capture and a receptionist's view of the patient
Document scanner for capturing files
Temperature scanner
While you can run sufficiently with your current equipment, using kiosks allows you to enable streamlined virtual front desk operations properly.
Reporting dashboard
Traditionally, medical receptionists are evaluated based on observation and metrics to measure their effectiveness behind the front desk. This, however, requires active supervision to watch and keep track of their performance.
A virtual receptionist platform can automate this process through a reporting dashboard. This dashboard will record metrics such as:
Their activeness in responding to each prompt
The amount of time for each interaction
The location of the interaction
Such metrics can give you an idea of how active they are with their tasks. It also provides you with a perspective of how busy each location is if you handle multiple clinics.
What to look for in a virtual receptionist platform
Many virtual receptionist platforms available today offer general features that enable front desk operations for various industries. However, physical therapy practices have specific requirements, such as ensuring patient data confidentiality. Thus, you must search for a virtual receptionist platform that can cater to such requirements and any particular needs you have for your clinic.
Here's what you have to look for in your virtual receptionist platform:
HIPAA compliant
As with all other equipment or additions to your current workflow, you must be able to determine whether a virtual receptionist platform subscribes to comply with HIPAA regulations. This is vital, especially if you plan to use a web camera for ID capture. A patient's picture can be taken without your knowledge by a third party with some control over your kiosks.
Customizability
Ideally, a virtual receptionist platform should come packed with everything you need to run your front desk operations as soon as you install it in your clinic. However, it's also best if the platform is capable of modification because:
Your physical therapy clinic asks for specific requirements from your patients. Thus, you may want to modify the digital intake forms to accommodate those specifications.
A physical therapy practice is still a business. Your brand image should be reflected in every corner of your practice. Since your patients will face your kiosks every time they visit your practice, so it's crucial that your clinic's branding is also found in your kiosks.
In particular, the platform should allow you to have flexibility in customizing:
The content of the digital intake forms
Branding of the kiosks (both software and kiosk)
Routing of each front desk interaction
Consistent technical support
When first installing a virtual receptionist platform, you will have a thorough discussion with the platform supplier on implementing and using the platform for your practice. Their involvement, however, must continue for as long as you use the platform.
The platform supplier should be able to help you through factors like:
Deteriorating equipment
Unexpected software bugs
New hardware or software needs
This is especially important for physical therapy practices where front desk operations have to be consistently up and running. Should you face any issues with the platform, the supplier should be one call away to help you.
Plus, if there are any updates to their software or hardware, the manufacturer must let you know accordingly so that you can have an informed decision on the current version of your equipment.
Conclusion
Standing out in the physical therapy space requires you to leverage emerging business technologies that optimize your workflow. Since your front desk stands as the vanguard of your clinic, the next necessary step is to leverage virtual medical receptionists through a remote front desk solution like WelcomeWare.